YOUR SEARCH:
filter results by:

This 2009 Horizon 97 ft (30m) 97 R P H luxury motor yacht is now for sale at 5.5 m Euro.
Launched in February 2009, ANNABEL II is a fantastic superyacht in wonderful condition. A roomy yacht for her length she accommodates 8-10 guests. ...
more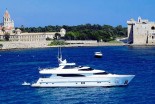 Luxury yacht Indian Empress is one of the largest private motor yachts in the world at 311 feet 8 inches (95 metres) in length. Launched in 2000 as Al Mirqab, she was finished at the Oceanco yard in Holland.
Engines: MAIN ENGINES 3 x ...
more
Oceanco
>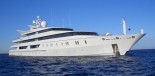 Welcome to this magnificent vessel, now restored to her former glory with state of the art equipment and technology. Steeped in history through the Onassis dynasty CHRISTINA O has been host to more celebrities than can be mentioned here: Maria Callas, ...
more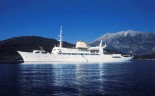 Luxury yacht SILVER is a 73 meter aluminium semi-displacement charter motor yacht built by Hanseatic Marine of Australia in 2008 and designed by Espen Oeino. M/Y SILVER accommodates up to 12 yacht charter guests and has a cruise speed of 18 knots and a ...
more
Hanseatic marine
>



LADY SHERIDAN is a 57m (189' 11") luxury yacht which was designed by Donald Starkey and built by Abeking & Rasmussen in Germany. Abeking & Rasmussen is one of the leading super yacht shipyards in Germany and is located at Lemwerder near Bremen on the ...
more
Abeking & Rasmussen
>