YOUR SEARCH: Alloy Yachts
filter results by:
SEARCH: displaying 1-1 of 1
1

Luxury sailing yacht Victoria of Strathearn was built by Alloy Yachts of New Zealand. She is a 40m (130 ft) ketch and was beautifully designed by naval architects Langan Design Associates and expertly built in 2001 by Alloy yachts.
She ...
more
Alloy Yachts
>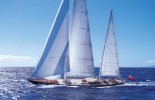 SEARCH: displaying 1-1 of 1
1