YOUR SEARCH: Amels
filter results by:
SEARCH: displaying 1-1 of 1
1

Luxury charter yacht LADY IN BLUE is a recent (2004) 52 meter (170') Amels motor yacht. LADY IN BLUE was built and engineered by Amels of Holland with naval architecture by Terrance Disdale.
The renowned Paris interior specialists Studio ...
more
Amels
>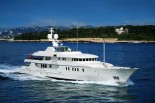 SEARCH: displaying 1-1 of 1
1