YOUR SEARCH: CRN Yachts
filter results by:
SEARCH: displaying 1-1 of 1
1

Luxury motor yacht ABILITY is built by CRN Ancona and offers an atmosphere of relaxed luxury. The 54m M/Y ABILITY, designed by naval architect Zuccon, is a superb new luxury yacht for the most discerning of charterers. Her experienced crew, under the ...
more
CRN Yachts
>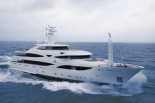 SEARCH: displaying 1-1 of 1
1