YOUR SEARCH: Trinity
filter results by:
SEARCH: displaying 1-1 of 1
1

Yacht KATHARINE (formerly Seakawk) is a 2001 aluminium Trinity Yachts 53.95m (177') luxury motor yacht. She has won many super yacht awards and represents the highest level in a luxury yachting vacation.
With cruising capabilities of up ...
more
Trinity
>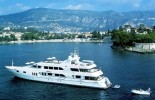 SEARCH: displaying 1-1 of 1
1