YOUR SEARCH: Perini Navi
filter results by:
SEARCH: displaying 1-3 of 3
1

SALUTE is a 56 meter 2008 luxury cutter rigged sailing yacht built by Perini Navi and designed by Perini and Ron Holland. Perini Navi is an Italian company often considered worldwide leaders in the design and construction of luxury cruising sailing ...
more
Perini Navi
>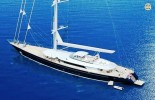 Sailing Yacht 'Andromeda la dea' is nothing short of a modern day legend in the sailing world. This 47 meter ketch was the first Perini Navi to circumnavigate the globe, took on the infamous "perfect storm" and has visited both the Arctic and the ...
more
Perini Navi
>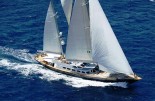 The first Perini Navi to be built, ELETTRA combines Italian style and design with a high level of comfort.
She is one of a series of three, and was a groundbreaking cruising yacht at the time of her launch, with cutting edge technology ...
more
Perini Navi
>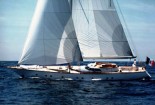 SEARCH: displaying 1-3 of 3
1