YOUR SEARCH:
filter results by:

Motor yacht MAGNA GRECIA is a combination of elegance, luxury, simplicity and entertainment. This is all integrated into a large 58 meter charter yacht which can accommodate 12 guests. M/Y MAGNA GRECIA provides outstanding seaworthiness and comfort and ...
more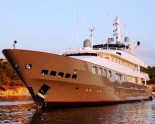 Motor Yacht NEW VIDA was built in 2001 by Deltam Marine. Addition of a dayhead to the Flybridge Deck. Interior soft goods. Enclosed entertainment space to be added to the Crow's Nest Deck.
NEWVIDA'S MAIN SALON- located on bridge deck
more
Delta Marine
>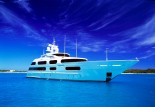 SAI RAM is a 51m (169' 11") luxury motor yacht as launched by Benetti Shipyard in 2004 and beautifully designed by Stefano Natucci. She provides a spacious, comfortable and stylish interior which has been created for family cruising and able to provide ...
more
Benetti
>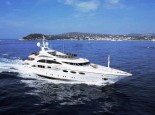 Luxury yacht 'Talisman C' represents the latest cutting edge in large modern luxury yacht charter. From the renowned Proteksan-Turquoise yards, the 54m M/Y Talisman C was designed to exceed the highest expectations of her guests. Talisman C will likely ...
more
motor yacht
>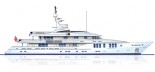 SALUTE is a 56 meter 2008 luxury cutter rigged sailing yacht built by Perini Navi and designed by Perini and Ron Holland. Perini Navi is an Italian company often considered worldwide leaders in the design and construction of luxury cruising sailing ...
more
Perini Navi
>